In this article, we share our AOC AG273QZ Review.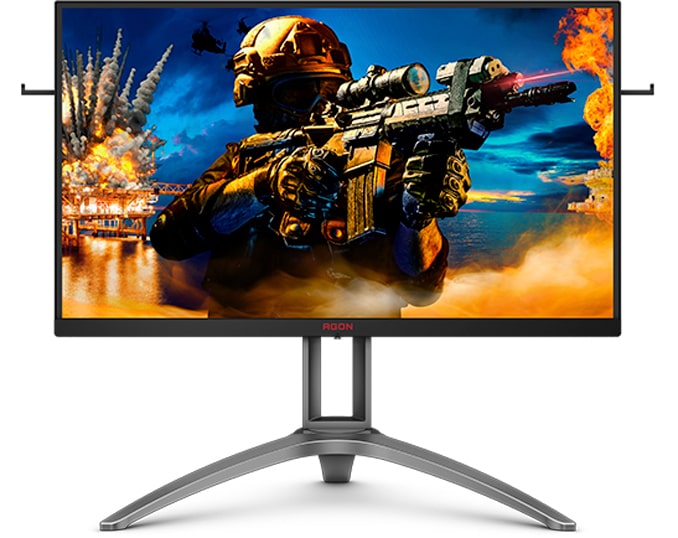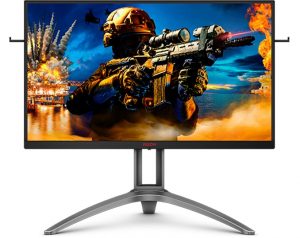 Pros – OSD Controller Accessory | Great Stand Ergonomics
Cons – Average out of box color accuracy | Deep Stand Profile
Screen size: 27-inches | Panel type: TN | Resolution: 2560 x 1440 | Response time: 0.5ms MPRT (rather than GtG) | Refresh rate: 240Hz | Aspect ratio: 16:9 | Release date: February 2020
Disclaimer: As an Amazon Associate I earn from qualifying purchases via the links on this website. This is at no extra cost to you. We only share things that we believe in and use ourselves.
The AOC AG273QZ was released in February 2020 and is among the first few 1440p 240Hz monitors to market.
Performance: Featuring one of the new AU Optronics 240hz 1440p TN panels you can expect incredible performance. This monitor is aimed at competitive gamers who want the extra screen space offered by a 27-inch monitor and QHD resolution. Note that AOC is quoting a Moving Picture Response Time instead of the usual Grey to Grey response time figures we see with most other monitors.
Design & Build Quality: The Sturdy Metal Stand allows for full adjustments and has a neat carrying handle built into the top, however, the feet protrude quite deep into your desk. Their LightFX menu in the OSD allows you to customize the lighting on the back of the monitor. There is a good range of connections with 4 x USB ports, 3.5mm headphone and mic jack, 2x display port 1.4 and 2 x HDMI 2.0 ports.
OSD, Calibration and Setup: The monitor comes with a nice OSD controller accessory that allows you to easily navigate the menu and presets without having to use the fiddly joystick on the monitor itself. The out of the box color accuracy is average but the brightness is set very high. It can be improved with a bit of tweaking.
Adaptive Sync Technology: AMD FreeSync Premium Pro ( Freesync 2) and G-Sync Compatible
Verdict: In a limited market the AOC AG273QZ is one of the best 1440p 240Hz monitors, offering extreme performance and good color accuracy for a TN Panel.
As always, we recommend you check out the reviews on Amazon and see for yourself.