In this article we reveal our ASUS ROG PG258Q Review.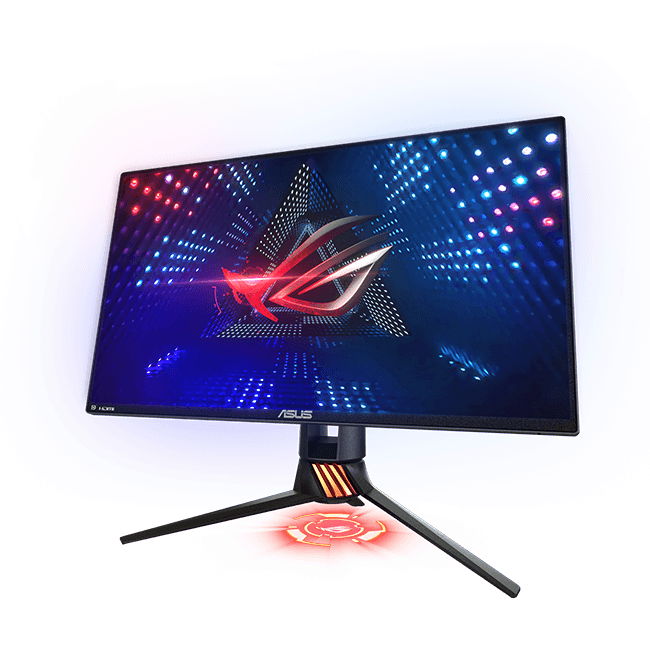 Pros – Comprehensive, easy to use OSD menu | Attractive design & stand
Cons – Average out of the box calibration
Screen size: 24.5-inches | Panel type: TN | Resolution: 1920 x 1080 | Response time: 1ms | Refresh rate: 240Hz | Aspect ratio: 16:9
Disclaimer: As an Amazon Associate I earn from qualifying purchases via the links on this website. This is at no extra cost to you. We only share things that we believe in and use ourselves
The ASUS ROG Swift PG258Q is ASUS' flagship 1080p 240Hz monitor and is a popular choice for many gamers.
Performance:  This monitor has extremely high performance but we wont compare this factor, See above for the reason why.
Design & Build Quality: The monitor has a stylish copper trimmed 3 pronged stand with a ASUS ROG logo light that projects down onto your desk. The light has 3 different intensities and can be turned off. The monitor has thin bezels which is good if you want a multi monitor setup. There is a HDMI, Displayport, 3 USB Ports and an audio jack. The ports and cables are nicely concealed around the back in a cavity with a detachable cover.
Adaptive Sync Technology: There are both G Sync (PG258Q) and FreeSync versions (XG258Q).
OSD, Calibration and Setup: The out of the box calibration is average and you will benefit from manually adjusting the Gamma, Contrast and RGB sliders. The good news is that the onscreen display menu is very comprehensive and easy to navigate, with either the built in joystick button or your keyboard and mouse. Like other ROG monitors you get a gameplus menu that allows you to easily turn on overlay features like FPS, crosshairs and timers. There is also the gamevisual menu that contains all the preset display modes like Racing(default), FPS, Cinematic, Scenary and RTS etc.
Verdict: Although released in 2017, the ASUS ROG PG258Q is still one of the best 1080p 240Hz monitors . However it is just a matter of time before we see newer models utilizing the next generation of AU Optronics TN Panels that offer sub 1ms response times.
Finally, we recommend you check out the latest customer reviews and pricing on Amazon and judge for yourself: