Alienware AW2521HF Review
In this article, we share our Alienware AW2521HF review.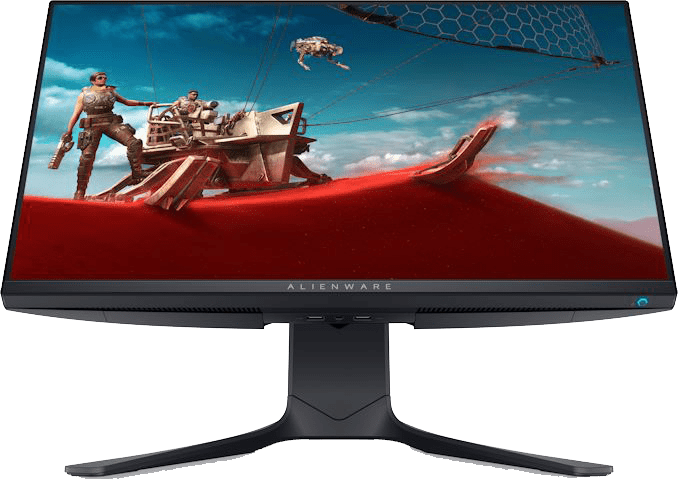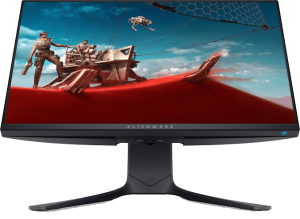 Pros – Premium Alienware Design | High Build Quality | Best Customer support
Cons – Stand takes up lots of space
Screen size: 24.5-inches | Panel type: IPS | Resolution: 1920 x 1080 | Response time: 1ms | Refresh rate: 240Hz | Aspect ratio: 16:9 | Released: March 2020
Disclaimer: As an Amazon Associate I earn from qualifying purchases via the links on this website. This is at no extra cost to you. We only share things that we believe in and use ourselves
The Alienware AW2521HF is Alienware's first 24.5 Inch 240Hz IPS monitor. As such,  It offers great performance with richer colors and better viewing angles than the TN Panel Alienware AW2518H. There is also a 27-Inch version called the Alienware AW2720HF.
Performance: This is one of several new monitors to feature the ultrafast AU Optronics 24.5-inch 240hz 1080p IPS panel with 1ms G2G response times, 1000:1 contrast ratio, 400 cd/m2 brightness, 178/178 viewing angles with a standard 99% sRGB color gamut. Therefore, you can expect amazing performance with wider viewing angles and higher contrast than a TN panel. Note that this monitor uses the same panel as the MSI MAG251RX and the ASUS TUF Gaming VG259QM.
Design & Build Quality: As expected with Alienware, the design is excellent. The front panel is matte black and has a premium plastic finish. There are customizable LEDs for the Alienware logo, power button and stand. The stand is very adjustable but the base is very large and protrudes into the desk. In addition, there is a generous selection of ports found under a removable cover on the back and the stand provides excellent cable management. In terms of connectivity, there is 1 x  DisplayPort 1.2a connector, 2 x HDMI 2.0 , a 4-port  USB 3.1 and a lineout and headphone jack.
Adaptive Sync Technology: Freesync and G-Sync Compatible
OSD, Calibration and Setup: There are buttons on the back to control the OSD. There are a large selection of presets and calibration features.  
Verdict: The AW2521HF provides great performance with the benefits of the better colors and viewing angles offered by an IPS panel. The AW2521HF earns its place as one of the best 1080p 240hz monitors. Other considerations would be the MSI MAG251RX and the ASUS TUF Gaming VG259QM or the 27-Inch Version the Alienware AW2720HF. 
We always advise you to read the latest customer reviews on Amazon and see for yourself.